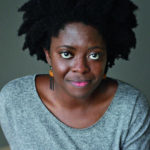 "Homegoing is an inspiration." —Ta-Nehisi Coates
Yaa Gyasi was born in Ghana and raised in Huntsville, Alabama. She holds a BA in English from Stanford University and an MFA from the Iowa Writers' Workshop, where she held a Dean's Graduate Research Fellowship. Gyasi's highly acclaimed debut novel,  Homegoing, begins with the story of two half-sisters, separated by forces beyond their control: one sold into slavery, the other married to a British slaver. Written with tremendous sweep and power, Homegoing traces the generations of family who follow, as their destinies lead them through two continents and three hundred years of history, each life indelibly drawn, as the legacy of slavery is fully revealed in light of the present day. Homegoing was named 'Debut Novel of the Year' by NPR and '2016 Notable Book' by The New York Times.
Jeff Chang is a journalist, a music critic, Executive Director of the Institute for Diversity in the Arts at Stanford University, and the author of Who We Be, Can't Stop Won't Stop, and We Gon' Be Alright.