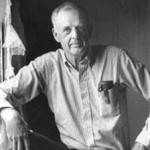 Wendell Berry is a widely celebrated writer, poet, essayist and novelist, but first and foremost, he is a farmer.  An original American prose voice, Berry writes with a calm and compelling vision about our sense of kinship with the land. For over thirty years he has farmed in his native Henry County, Kentucky.  Berry is the recipient of numerous awards and the author of over fifty books of fiction, non-fiction, and poetry including A Place on Earth, The Unsettling of America, Jayber Crow, and The Art of the Commonplace.   In his last collection of poetry, The Mad Farmer Poems, Berry raged against the depravities of contemporary life wrought by mismanagement of natural resources and our willful ignorance of the lessons of the past. The forthcoming collection of stories titled A Place in Time, is the first addition to the Port William series since 2004.
Elizabeth Farnsworth is a former chief correspondent of The NewsHour with Jim Lehrer and an award-winning filmmaker. She is currently working with landscape photographer Terry Evans on a two-year exploration of the effects of the North Dakota oil boom on prairie and people. Their work will be exhibited next year at the Field Museum of Natural History in Chicago. Farnsworth is also a fellow at the Center for Art and Environment of the Nevada Art Museum.
Please note new 7:30pm start time.