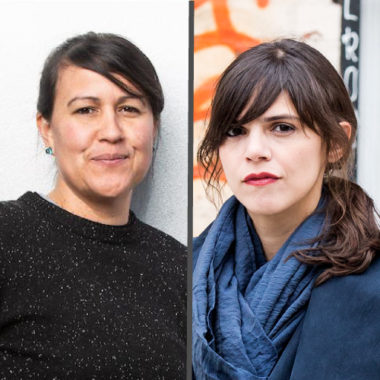 Ms. Luiselli has cancelled her City Arts & Lectures appearance with Natalie Diaz as she is no longer able to come to California due to personal obligations. We apologize for the inconvenience.
To change your ticket(s) for another City Arts & Lectures event ($29), to receive a refund, or to donate your tickets back as a tax-deductible contribution, please call City Box Office at 415-392-4400. All refunds or exchanges must be made by Friday, January 17, 2020.
___________________________
Written and performed by Valeria Luiselli and Natalie Diaz, this immersive piece of performative literature examines the experience, and trauma, of women as they cross the border.
Statement from the artists: "This is a performance conversation of U.S. asylum laws and practices and the ways in which these structures perpetuate the abuse and dangers immigrant women are fleeing. Join us in an enactment of an actual asylum case– known as matters– to experience an embodied inquiry into the illogic and trauma of the asylum laws and processes, as well as the infamous Credible Fear Interview."
Valeria Luiselli's books include the essay collection Sidewalks, the novels Faces in the Crowd and The Story of My Teeth, and the essay Tell Me How It Ends: An Essay in Forty Questions. Born in Mexico City, Luiselli's latest novel, Lost Children Archive, explores questions of migration, displacement, and the American justice system today. Luiselli's work has appeared in The New York Times, Granta, and McSweeney's, among other publications.
Born in the Fort Mojave Indian Village in Needles in California, Natalie Diaz is Mojave and an enrolled member of the Gila River Indian community. After attending Old Dominion University on a full athletic scholarship, Diaz played professional basketball in Europe and Asia. She is the author of the poetry collections When My Brother Was an Aztec and the forthcoming Postcolonial Love Poem. Diaz teaches at the Institute of American Indian Arts Low Rez MFA and is the director of the Fort Mojave Language Recovery Program, where she works with the last remaining speakers of the Mojave language.