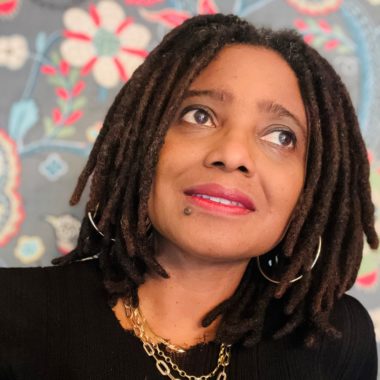 Her poems are mysterious but utterly lucid and write a history that is sub-rosa yet fully within her vision. They are deeply satisfying and necessarily inconclusive. And they are pristinely beautiful without ever being precious. – Elizabeth Alexander
Tracy K. Smith is a librettist, translator and the author of five acclaimed poetry collections, including the Pulitzer Prize-winning Life on Mars. Her memoir, Ordinary Light, was a finalist for the National Book Award. From 2017 to 2019, she served as the 22nd Poet Laureate of the United States. In 2020, heartsick from constant assaults on Black life, Smith found herself soul-searching, and digging into the historical archive for help navigating the "din of human division and strife." In her new book, To Free the Captives: A Plea for the American Soul, Smith draws on several avenues of thinking – personal, documentary, and spiritual– to understand who we are as a nation and what we might hope to mean to one another.
john a. powell is an internationally recognized expert in the areas of civil rights and civil liberties and a wide range of issues including race, structural racism, ethnicity, housing, poverty, and democracy. He is the Director of the Othering & Belonging Institute and a Professor of Law and Professor of African American Studies and Ethnic Studies at the University of California. Previously, Professor powell founded and directed the Institute on Race and Poverty at the University of Minnesota and was National Legal Director of the American Civil Liberties Union where he was instrumental in developing educational adequacy theory.
A limited number of tickets include a copy of Smith's new book To Free the Captives: A Plea for the American Soul.
Photo Credit: Tracy K. Smith