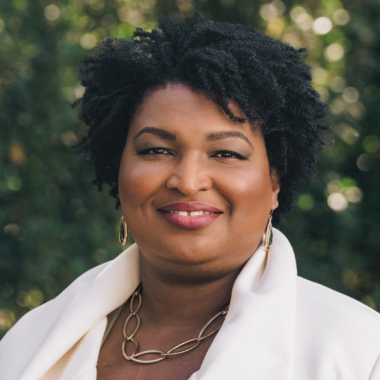 We've made a recording of this event free to all. Please support our institution and these productions by making a tax-deductible contribution.
Stacey Abrams is a political leader, voting rights activist, and bestselling author. She served as Minority Leader in the Georgia House of Representatives, and she was the first Black woman to become gubernatorial nominee for a major party in United States history.  Abrams has launched multiple nonprofit organizations devoted to democracy protection, effective public policy, and voting rights. She was instrumental in driving an enormous number of voter registrations in Georgia and those voters were central to turning Georgia blue in the 2020 presidential election and the Senate races. She's the author of the non-fiction books Lead from the Outside and Our Time is Now; eight romance novels under the pen name Selena Montgomery; and the legal thrillers While Justice Sleeps and Rogue Justice.
Dan Pfeiffer is a political advisor, author, and co-host of the popular political podcast, Pod Save America. He was the Senior Advisor to the President of the United States, Barack Obama, for strategy and communication from 2013 to 2015. He is the author of Yes We (Still) Can: Politics in the Age of Obama, Twitter, and Trump.
All tickets include a copy of Rogue Justice (books in the orchestra are signed).
City Arts & Lectures' Covid protocol follows San Francisco Department of Public Health guidelines and/or requirements of the featured guests. At this time, masks are encouraged but not required. Policy subject to change.