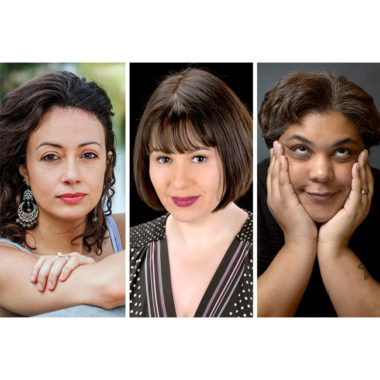 We've made a recording of this event free to all. Please support our institution and these productions by making a tax-deductible contribution.
An evening to talk politics, advice — and advice on coping with politic — with Roxane Gay, Michelle Goldberg, and others, hosted by Rachel Dry. Join us for a live version of Roxane Gay's "Ask Roxane" advice column.
Roxane Gay is the author of the books Ayiti, An Untamed State, Bad Feminist, Difficult Women, Hunger and World of Wakanda for Marvel. A contributing opinion writer for the New York Times, Gay's writing has appeared in Best American Mystery Stories 2014, Best American Short Stories 2012, Best Sex Writing 2012, A Public Space, McSweeney's, Tin House, Oxford American, American Short Fiction, Virginia Quarterly Review, and elsewhere.
Michelle Goldberg is an Op-Ed columnist for The New York Times covering politics, gender, religion and ideology. She is the author of Kingdom Coming: The Rise of Christian Nationalism, The Means of Reproduction: Sex, Power, and the Future of the World, and "The Goddess Pose: The Audacious Life of Indra Devi, the Woman Who Helped Bring Yoga to the West."
Jennine Capó Crucet is a fiction writer, essayist, and a contributing opinion writer for the New York Times. Her novel, Make Your Home Among Strangers, won the International Latino Book Award. She is also the author of How to Leave Hialeah, and a forthcoming essay collection. Her work has appeared in Medium, the Los Angeles Review, the Virginia Quarterly Review, and on PBSNewsHour.
This event is produced in collaboration with