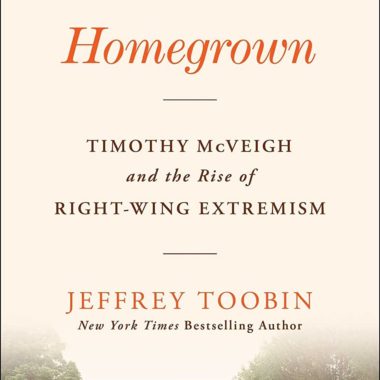 We've made a recording of this event free to all. Please support our institution and these productions by making a tax-deductible contribution.
"Anyone trying to understand the violent extremism that led to the assault on America's Capitol on January 6th, and anyone who thinks that day marked the end of the story, must read Homegrown. Toobin shows that today's domestic terrorists are neither new, nor an isolated phenomenon. McVeigh's story is a nonfiction thriller, both eye-opening, and an urgently needed warning.
— Jane Mayer, bestselling author of Dark Money
The definitive account of the 1995 Oklahoma City bombing and the enduring legacy of Timothy McVeigh, leading to the January 6 insurrection — from acclaimed journalist Jeffrey Toobin (The Nine: Inside the Secret World of the Supreme Court,The Run of His Life: The People vs. O.J. Simpson). In Homegrown: Timothy McVeigh and the Rise of Right Wing Extremism, Toobin has combed nearly a million previously unreleased tapes, photographs, and documents, including detailed communications between McVeigh and his lawyers, as well as interviews with such key figures as Bill Clinton. Jane Mayer talks to Toobin about how McVeigh's principles and tactics have flourished, reaching an apotheosis on January 6 when hundreds of rioters stormed the Capitol, and how the story can serve as a warning for the future.
Jane Mayer is Chief Washington Correspondent for The New Yorker Magazine and author of four books including Dark Money: The Hidden History of the Billionaires Behind the Rise of the Radical Right. She is currently working on a new book about the conservative movement's campaign to take over America's courts.