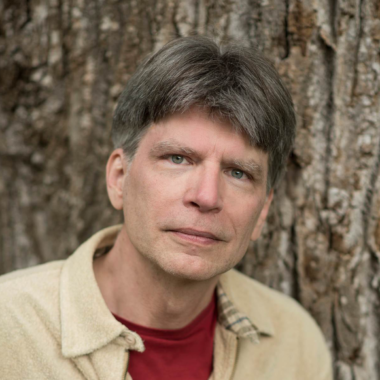 We've made a recording of this event free to all. Please support our institution and these productions by making a tax-deductible contribution.
Richard Powers is the author of thirteen novels, including the 2019 novel The Overstory, which won the Pulitzer Prize in Fiction. The book is a sweeping, impassioned work of activism and resistance that is also a stunning evocation of the natural world. His new novel, Bewilderment, brings Powers' astute and compassionate eye for nature to the cosmos. His most intimate book yet, it is the account of a father and son's ferocious love, and contains soaring descriptions of the natural world and its tantalizing vision of life beyond. Powers is a MacArthur Fellow and received the National Book Award.
Indre Viskontas is a cognitive neuroscientist with the University of San Francisco and a faculty member at the San Francisco Conservatory of Music. She has published groundbreaking work on the neural basis of memory and creativity, and co-hosts the popular science podcast Inquiring Minds. Her past City Arts & Lectures interviews include Atul Gawande and Temple Grandin.
Photo Credit: Dean D. Dixon
Proof of vaccination with a complete initial series is required for entry. This means completion of the two-dose regimen of Pfizer or Moderna vaccines or one dose of Johnson & Johnson vaccine must be administered two weeks or more in advance of the event. While not a requirement, a vaccine booster is strongly recommended to be administered at least one week prior to the event. Masks are also required. Policy subject to change.