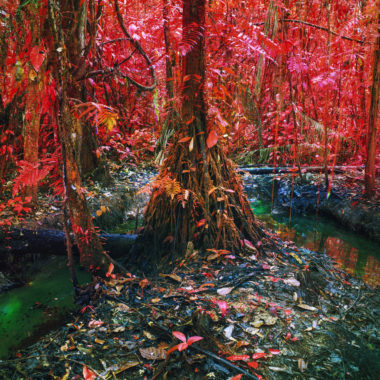 We've made a recording of this event free to all. Please support our institution and these productions by making a tax-deductible contribution.
Photographer and filmmaker Richard Mosse has worked all over the world, capturing images of human destruction in natural environments from the war in the eastern Democratic Republic of Congo to ecological collapse in the Amazon. Recent projects have appropriated geographic information system (GIS), satellite imaging and historical military surveillance technology to document political and ecological crises including the deforestation of tropical rainforests in the Amazon, the civil war in the Democratic Republic of Congo, and European refugee and migration policy. These surveillance technologies offer otherwise inaccessible views of far-off people and places, calling attention to their plights, while engaging with the complicated notions of consent, privacy and agency.
Photo Credit: Richard Mosse, Oil Spill on Kichwa Territory III, Block 192, Rio Tigre, Loreto, 2023, C-print, 48 x 64 in. Courtesy of the artist, Altman Siegel, San Francisco, and Jack Shainman Gallery, New York.