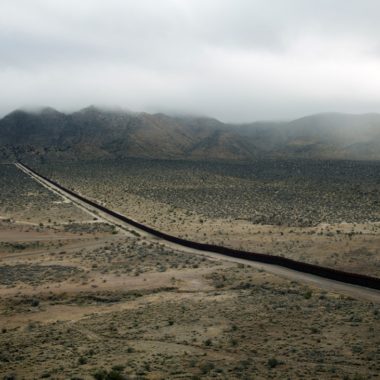 Border Cantos is a cross-disciplinary exploration of the U.S.-Mexico border developed collaboratively by photographer Richard Misrach and composer Guillermo Galindo. The project features monumental landscapes by Misrach and hand-crafted musical instruments created by Galindo from found objects recovered at the border—a shoe, a water bottle, a backpack. Border Cantos offers new avenues for approaching heated political issues around immigration, border security, and immigration reform, and a poetic response to the oftentimes polarizing discussions around these issues.  This City Arts & Lectures event will include an original piece created and performed by Galindo and vocalist Amy X Neuburg, featuring instruments made from border items, and projections of Misrach's images. Alexis Madrigal will lead a conversation with the artists.
Among the most important and influential of living American photographers, Richard Misrach produces large-scale color photographs that meditate on human intervention in the landscape and probe the environmental impact of industry, among other concerns. His series, Desert Cantos, captures the awful beauty of human-wrought disasters in the desert; other subjects include the aftermath of Hurricane Katrina, documentation of the industrial corridor along the Mississippi River known as Cancer Alley, and Petrochemical America, a collaboration with landscape architect Kate Orff addressing the health and environmental issues associated with our dependency on oil.
Guillermo Galindo's approach to concepts such as musical form, time perception, music notation, sonic archetypes and instrumentation span through a wide spectrum of artistic works from symphonic and chamber composition to live performance art. His orchestral composition includes two symphonies: Ome Acatl premiered in Mexico City by the OFUNAM orchestra (1997) and Trade Routes (2006) commissioned and premiered by the Oakland East Bay Symphony Orchestra and chorus. His operas include two major works: Califas 2000 with text and performance by MacArthur Fellow Guillermo Gomez Peña and Decreation/Fight Cherries with text by MacArthur Fellow poet Anne Carson.
Amy X Neuburg is a vocalist and composer known for her innovative use of live looping technology with electronic percussion and her 4-octave vocal range. She has presented solo "avant-cabaret" songs at venues around the world, and her compositions have been performed by chamber ensembles and other musicians for theater, visual media, and modern dance. A classically trained vocalist, Neuberg has been featured in many contemporary operas and recordings including works by Robert Ashley, Culture Clash and Guillermo Galindo.