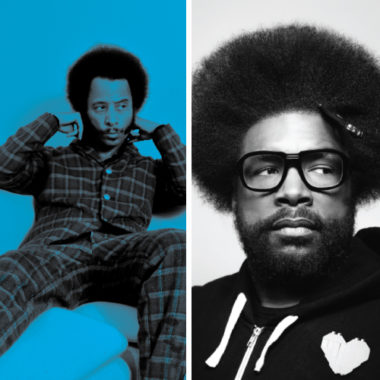 We've made a recording of this event free to all. Please support our institution and these productions by making a tax-deductible contribution.
Musician, DJ, producer, culinary entrepreneur, and author, Questlove is best known as the drummer of The Roots, Philadelphia's most influential hip-hop group. He is the Musical Director for The Tonight Show Starring Jimmy Fallon, where his Roots crew serves as house band. He has held musical directing positions with everyone from D'Angelo to Eminem to Jay-Z, and is the author of Mo' Meta Blues and Soul Train: The Music, Dance and Style of a Generation. Questlove is also immersed in the culinary world, hosting a series of salons with world-renowned chefs at his apartment in New York, appearing as a Guest Judge on Top Chef, and co-authoring Something to Food About, a collection of conversations with ten chefs. In his new book, Creative Quest, Questlove synthesizes the philosophies and practices of the many creators and collaborators in his life, and reflects on his own experience, to advise readers on how to cultivate creativity.
In his debut film, Sorry To Bother You, musician and activist Boots Riley pioneers "a new form of wildly inventive, highly confrontational satire that dares to question the system…" (Variety). Set in an alternate present-day Oakland, the film follows the surreal adventures of a telemarketer who chooses success over solidarity.  Boots Riley grew up in Oakland. He studied film at San Francisco State University before dropping out in favor of a major label recording deal. He put in two decades as leader of The Coup, a radical funk/punk/hip-hop band, where he penned six albums to widespread critical acclaim, receiving "Pop Album Of The Year" by Washington Post and Associated Press, and "Hip Hop Album Of The Year" by Rolling Stone. His book of lyrics and anecdotes, Tell Homeland Security We Are The Bomb, is out now from Haymarket Press. The Coup's seventh, as-yet-unreleased album, The Sun Exploding is the soundtrack of Sorry To Bother You.
Carvell Wallace is a regular contributor to the New York Times Magazine and former columnist at MTV News. He writes about a wide-range of subjects including race, parenting, police brutality, and music and arts.  He is co-host of Slate's podcast Mom and Dad Are Fighting, and creator and host of the podcast Closer Than They Appear on Al Jazeera. 
.
Orchestra tickets include a copy of Questlove's new book, Creative Quest.