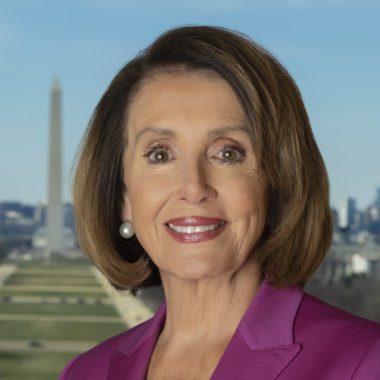 We've made a recording of this event free to all. Please support our institution and these productions by making a tax-deductible contribution.
This is for IN-PERSON tickets to see Speaker Emerita Pelosi at the Sydney Goldstein Theater. If you would like to join us virtually, please visit us here.
A benefit for City Arts & Lectures' Educational Outreach offering free tickets to students and educators.
Nancy Pelosi has represented San Francisco in Congress for more than 35 years. She served as the 52nd Speaker of the House of Representatives, having made history in 2007 when she was elected the first woman to serve as Speaker of the House. Pelosi made history again in January 2019 when she regained her position second-in-line to the presidency – the first person to do so in more than six decades. As Speaker, Pelosi spearheaded passage of the historic Affordable Care Act in the House and led the Congress in passing strong Wall Street reforms. Her legislative accomplishments also include the passage of historic investments in college aid, clean energy and innovation, and initiatives to help small businesses and veterans.
Jelani Cobb is Dean of Columbia University School of Journalism and a staff writer at The New Yorker since 2015. Cobb received a Peabody Award for his 2020 PBS Frontline film Whose Vote Counts? and was a finalist for the Pulitzer Prize in Commentary in 2018. His books include The Substance of Hope: Barack Obama and the Paradox of Progress, and he is co-editor of several volumes including The Matter of Black Lives and The Essential Kerner Commission Report.
Students & Educators: City Arts & Lectures offers free tickets to students and educators. Contact [email protected] to reserve seats. Requests must be made with a school-affiliated email address and/or a picture of school ID.
Photo credit: John Harrington