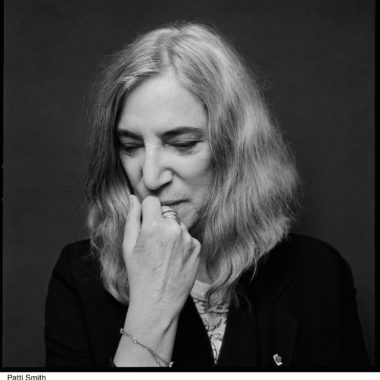 We've made a recording of this event free to all. Please support our institution and these productions by making a tax-deductible contribution.
Patti Smith first gained recognition in the 1970s for her revolutionary merging of poetry and rock. Among her many recordings, Horses is hailed as one of the top one hundred albums of all time by Rolling Stone. Her books include Just Kids, a memoir about her life-long friendship with photographer Robert Mapplethorpe and M Train, a collection of personal writing Smith described as "a roadmap to my life." Smith is also the author of the poetry collections Babel, Witt, Woolgathering, The Coral Sea, and Auguries of Innocence. In 2005, the French Ministry of Culture awarded Smith the title of Commandeur des Arts et des Lettres, the highest honor given to an artist by the French Republic. She was inducted into the Rock and Roll Hall of Fame in 2007.
Tickets include a paperback edition of M Train.
---
Books Referenced:
Films/TV Shows Referenced: 
Writers Referenced:
William S. Burroughs 

Anne Sexton

Sam Shepard

Virginia Woolf

Allen Ginsberg

William Blake

Sandy Perlman 

William Shakespeare
Musicians/Musical Groups Referenced:
Bruce Springsteen

Fred "Sonic" Smith

Buddy Holly

The Chi-Lites

The Isley Brothers

Bobby Neuwirth 

Janis Joplin

Glenn Gould

Lenny Kaye

Elvis Presley

Michael Stipe

Blue Ӧyster Cult

The Clash

Benjamin Britten

Metallica
Artists Referenced: 
Bobby Fischer (Chess Player)

Boris Spassky (Chess Player)

Robert Mapplethorpe

Rudolf Nureyev (Ballet Dancer)

Willem de Kooning

Dean Stockwell (Actor)

Rembrandt

Man Ray
Songs/Albums Referenced:
"Because the Night" by Patti Smith Group

"Rag Doll" by Frankie Valli & The Four Seasons

Horses

by Patti Smith

"When Doves Cry" by Prince

"Your Protector" by Fleet Foxes 

"Wicked Messenger" by Bob Dylan 

"Highway 61" by Bob Dylan 

"Dark Eyes" by Bob Dylan

"Wing" by Patti Smith

"Beneath the Southern Cross" by Patti Smith 

"People Have the Power" by Patti Smith & Lenny Kaye