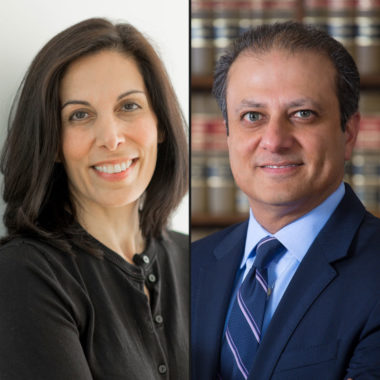 We've made a recording of this event free to all. Please support our institution and these productions by making a tax-deductible contribution.
We are please to offer virtual tickets for this event in addition to the live theater event. Virtual tickets here.
What is "cheating" in the era of generative AI and cognitive enhancers? What rights do we have against institutional misuse of AI and nanotechnology? These technologies have permeated everything from criminal justice to the future of work – and without proper safeguards, they have the power to wreak havoc on our fundamental human rights to privacy, freedom of thought, and self-determination. Former U.S. Attorney for the Southern District of New York, podcast host, and author Preet Bharara (Doing Justice) will talk to futurist and legal ethicist Nita Farahany (The Battle for Your Brain) about these questions, and how we can navigate the complex legal and ethical dilemmas that lie ahead.
City Arts & Lectures' Covid protocol follows San Francisco Department of Public Health guidelines and/or requirements of the featured guests. At this time, masks are encouraged but not required. Policy subject to change.