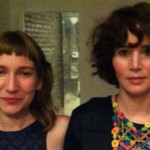 Filmmaker, artist, and author Miranda July, is known for her off beat and independent short films and performance art.  Her videos, performances, and web-based projects have been presented at the Museum of Modern Art, the Guggenheim Museum, and in two Whitney Biennials. In 2005, July starred in and directed her first feature-length film, Me and You and Everyone We Know, and in 2011, she wrote and starred in The Future. July's fiction has appeared in The Paris Review, Harper's, and The New Yorker. She published her first collection of stories, No One Belongs Here More Than You, in 2007, and her first novel,  The First Bad Man, in 2015.
Sheila Heti is the author of seven books, including How Should a Person Be? which The New York Times Book Review called an "odd, original, and nearly unclassifiable book," and which was named as a best book of the year by The New York Times, The New Yorker, and Salon. Recently, she published the New York Times bestseller, Women in Clothes, a collaboration with Heidi Julavits and Leanne Shapton, featuring the writing and wardrobes of 639 women. She is also the author of Ticknor and The Chairs Are Where the People Go. McSweeney's recently published her play,  All Our Happy Days are Stupid.
Thao Nguyen is an American singer-songwriter originally from Virginia, now based in San Francisco. She is a member of the band Thao & The Get Down Stay Down, with whom she has toured extensively and collaborated with other artists such as Joanna Newsom and Andrew Bird. In additional to her musical endeavors, she has worked with 826 Valencia and California Coalition for Women Prisoners. Her advocacy and support of CCWP inspired the band's most recent album, We The Common.