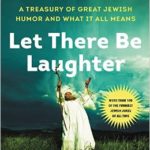 Humorist and long-time New Yorker staff writer CALVIN TRILLIN, is a beloved humorist and chronicler of culture. This year, Trillin published two new books: Jackson, 1964, a career-spanning collection of articles on race and racism, from the 1960s to the present; and No Fair! No Fair, a children's book illustrated by Roz Chast. Though his writing about food began as comic relief from his more serious pieces, it has earned him a dedicated readership and has been collected in three books including American Fried, Alice Let's Eat, and Third Helpings. Trillin's other works include Messages From My Father; Remembering Denny, and About Alice.
MICHAEL KRASNY is a Professor of English and American Literature and author of the books, Off Mike: A Memoir of Talk Radio and Literary Life and Spiritual Envy: An Agnostic's Search. Since 1993 he has been the host of "Forum," a news and public affairs interview program produced at KQED Radio. In his new book, Let There be Laughter, Krasny pairs the most iconic Jewish jokes with wise and entertaining explanations, illuminating the cultural expressions and anxieties behind the laughs.
Steven Winn spent 28 years at the San Francisco Chronicle, the last six as Art and Culture Critic. He is the author of the memoir, Come Back, Como, and his work has appeared in California, Good Housekeeping, and Sports Illustrated, among other publications. His many past interviews for City Arts & Lectures include John Updike, Tina Fey, Orhan Pamuk, and Sally Mann.