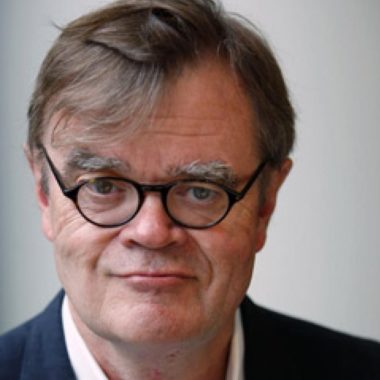 An evening of words and music with Garrison Keillor, A Prairie Home Companion Music Director Richard Dworsky, singer Heather Masse, blues and rock 'n' roll musician Elvin Biship and Kambara + Dancers.
The creator and former host of A Prairie Home Companion, Garrison Keillor is beloved for his unique Midwestern humor, encyclopedic memory, and rich baritone voice.  Born in Anoka, Minnesota, Keillor graduated from the University of 
Minnesota ('66), and now lives in St. Paul and New York City. He is the author of numerous books, 
 including Pilgrims: A Wobegon Romance; O, What A Luxury: Verses Lyrical, Vulgar, Pathetic & Profound; and The Keillor Reader. He is also the editor of the Good Poems anthologies. Keillor starred as himself in the Robert Altman film A Prairie Home Companion. He retired from hosting the hugely popular radio show in 2016.
Keyboardist, composer, and arranger Richard Dworsky is A Prairie Home Companion's music director. He leads the band, composes themes, improvises script underscores, and collaborates with such diverse guests as Yo-Yo Ma, James Taylor, Brad Paisley, Kristin Chenoweth, and Sheryl Crow. He has released many recordings of original material and has provided music for documentaries on HBO and PBS.
Elvin Bishop is an American blues and rock and roll musician, guitarist, and songwriter. He was a founding member of the groundbreaking Paul Butterfield Blues Band in the early '60s and has recorded with legends such as Clifton Chenier, John Lee Hooker, and The Allman Brothers, as well as had solo success with his own 1976 smash hit "Fooled Around and Fell In Love."
Heather Masse is a singer-songwriter.  A member of the Billboard-charting folk group, The Wailin' Jennys, she has performed at hundreds of venues across the world.  She has been a frequent guest on Garrison Keillor's A Prairie Home Companion, both as a solo performer and as a member of The Jennys. Heather's newest release on Red House Records, Lock My Heart, is an album of jazz standards and originals.  
Kambara + Dancers bridges art and audience through contemporary dance. Choreographer Yayoi Kambara focuses her work on diverse cultural, economic and ethnic differences, creating a space for empathy and dialogue.