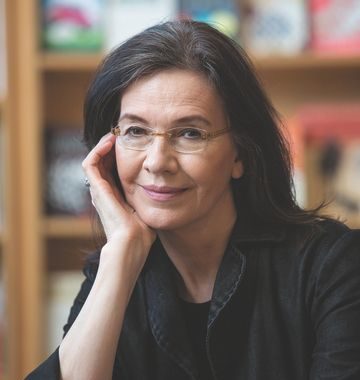 We've made a recording of this event free to all. Please support our institution and these productions by making a tax-deductible contribution.
Louise Erdrich is one of the most gifted, prolific, and challenging of contemporary Native American novelists. Born in 1954 in Little Falls, Minnesota, she grew up mostly in Wahpeton, North Dakota, where her parents taught at Bureau of Indian Affairs schools. Her fiction reflects aspects of her mixed heritage: German through her father, and French and Ojibwa through her mother. She is the author of the many novels including Love Medicine; The Beet Queen, and The Bingo Palace, and The Round House, two poetry collections and numerous short stories. Erdrich is also the owner of Birchbark Books, a independent bookstore in Minneapolis that dedicates its shelves to Native American literature and the Native community in the Twin Cities.  Her new novel, The Sentence, is a timely ghost story that takes place in such a bookstore, set against the backdrop of the COVID-19 pandemic and the murder of George Floyd. 
Steven Winn is a fiction writer and award-winning arts journalist whose writing has appeared in The New York Times, Southern Poetry Review, and Sports Illustrated. Winn spent 28 years at the San Francisco Chronicle, and the last six as the Arts and Culture Critic. His past City Arts & Lectures interviews include Alonzo King, André Aciman, Susan Orlean, Frances McDormand, and Diane Keaton.
Photo Credit: Jenn Ackerman