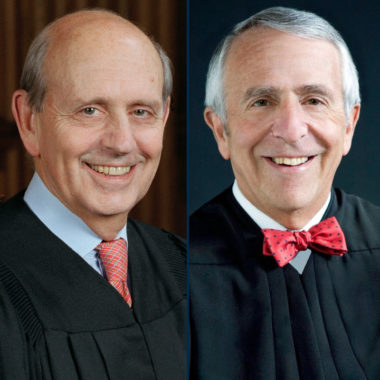 We've made a recording of this event free to all. Please support our institution and these productions by making a tax-deductible contribution.
We are please to offer virtual tickets for this event in addition to the live theater event. Virtual tickets here.
A conversation with Justice Stephen Breyer and his brother, Judge Charles Breyer. Justice Breyer retired in summer 2022 after nearly 28 years as a member of the Supreme Court. Prior to that, he served nearly 14 years as a Court of Appeals Judge. He is especially appreciated for his pragmatism, issuing decisions most often informed by their real life consequences, and his firm belief that judges are loyal to the law, not to a political party. Born in San Francisco, both he and brother Judge Charles Breyer attended Lowell High School. Their father served as legal counsel to the San Francisco Board of Education, and their mother focused on public service. Senior United States District Judge Charles Breyer has served on the bench for 25 years. He was an assistant special prosecutor on the Watergate Special Prosecution Force from 1973 to 1974, and then entered private practice 1974 to 1997, interrupted by a brief stint as chief assistant district attorney of San Francisco in 1979.
Vince Chhabria is a federal judge for the United States District Court for the Northern District of California. Prior to joining the court, Chhabria was a Deputy City Attorney at the San Francisco City Attorney's Office. Chhabria was nominated for a seat on the United States District Court by President Obama in 2013. He was confirmed by the Senate on March 5, 2014 and is the first Indian American to pass through the confirmation process and become an Article III judge on a federal court in the state of California