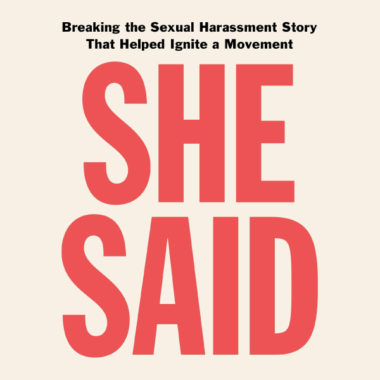 We've made a recording of this event free to all. Please support our institution and these productions by making a tax-deductible contribution.
In October 2017, Jodi Kantor and Megan Twohey broke the story of decades of sexual abuse allegations against Harvey Weinstein. Their work helped ignite the #MeToo movement, shift attitudes, and spur new laws, policies and standards of accountability around the globe. Together with a team of colleagues who exposed harassment across industries, they were awarded the Pulitzer Prize for public service. She Said: Breaking the Sexual Harassment Story That Helped Ignite a Movement is the untold story behind that investigative reporting, from confidential discussions with top actresses to meticulous research of decades-old secret payouts and nondisclosure agreements.
Joining Kantor and Twohey for part of the conversation: Rowena Chiu. Chiu worked as Assistant to Harvey Weinstein in 1998. After leaving the film industry, she worked in the fields of management consulting and international development.
Bernice Yeung covers labor and employment for ProPublica. Previously, she was a reporter with Reveal from The Center for Investigative Reporting, where she was a member of the award-winning reporting teams that investigated the sexual assault of immigrant farm workers and night-shift janitors. She is the author of In a Day's Work: The Fight to End Sexual Violence Against America's Most Vulnerable Workers.
Each orchestra ticket includes a copy of Kantor & Twohey's new book: She Said: Breaking the Sexual Harassment Story That Helped Ignite a Movement