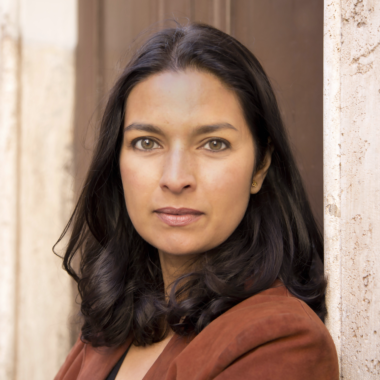 We've made a recording of this event free to all. Please support our institution and these productions by making a tax-deductible contribution.
With compelling, universal fluency, Jhumpa Lahiri portrays the practical and emotional adversities of her diverse characters in elegant and direct prose. Whether describing hardships of a lonely Indian wife adapting to life in the United States or illuminating the secret pain of a young couple as they discuss their betrayals during a series of electrical blackouts, Lahiri's bittersweet stories are deeply compassionate, while avoiding sentimentality. Also an accomplished translator, Lahiri's forthcoming novel, Whereabouts, is her first full-length self-translation. The book follows a woman wavering between stasis and movement, between the need to belong and the refusal to form lasting ties, as she wanders parks, bridges, piazzas, streets, stores, coffee bars, and the sidewalks around her house. Lahiri will also publish her first collection of poems in Italian, Il quaderno di Nerina, in 2021. Lahiri received the Pulitzer Prize in 2000 for Interpreter of Maladies, her debut story collection that explores issues of love and identity among immigrants and cultural transplants. She is the director of Princeton University's Program in Creative Writing.
Monica Seger is a professor and scholar, whose research and teaching addresses twentieth and twenty-first century Italian literature, film and media; the environmental humanities; and gender studies. She serves as the Program Director for Italian Studies at William & Mary University, and is affiliate faculty in the programs of Gender, Sexuality, and Women's Studies; Film and Media Studies; and Environmental Science and Policy. Seger is the author of Landscapes in Between: Environmental Change in Modern Italian Literature and Film, and is currently working on a new monograph considering narrative expressions of toxic embodiment in contemporary Italy.
Photo Credit: Liana Miuccio