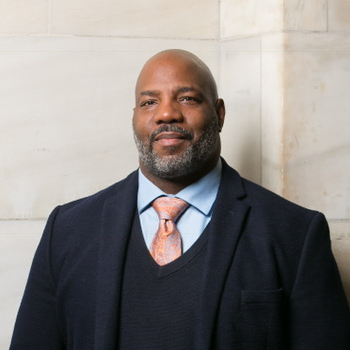 We've made a recording of this event free to all. Please support our institution and these productions by making a tax-deductible contribution.
Jelani Cobb has been a staff writer for The New Yorker since 2015, writing on subjects of race, politics, history, and culture. Cobb's books include The Substance of Hope: Barack Obama and the Paradox of Progress, To the Break of Dawn: A Freestyle on the Hip Hop Aesthetic, and the collection, The Devil and Dave Chappelle and Other Essays. He has also contributed essays and articles to the Washington Post, The New Republic, Essence, Vibe, The Progressive, and TheRoot.com. Across his body of work, Dr. Cobb regularly interrogates intersections of race, social justice, and American politics, suffusing them with his characteristic incisiveness and wit. His awards include the 2015 Sidney Hillman Prize for Opinion and Analysis Journalism, and fellowships from the Fulbright and Ford foundations. Dr. Cobb was a 2018 Pulitzer Prize Finalist in Commentary, "for combining masterful writing with a deep knowledge of history and a deft reporter's touch to bring context and clarity to the issue of race at a time when respectful dialogue on the subject often gives way to finger-pointing and derision."  He is the Ira J. Lipman Professor of Journalism at Columbia University, specializing in post-Civil War African American history, 20th century and modern American politics, and the history of the Cold War.
Hilton Als is an essayist, author, and has been the lead theatre critic for The New Yorker since 2012. Als received the 2017 Pulitzer Prize in Criticism, "for bold and original reviews that strove to put stage dramas within a real-world cultural context, particularly the shifting landscape of gender, sexuality and race."  He is the author of The Women, and White Girls, a finalist for the National Book Critics Circle Award, and the winner of the Lambda Literary Award for Non-fiction. His writing, regardless of form, explores race, sexuality, class, art, and American identity provocatively, exploding the boundaries of the genre in which it is contained.
---
Books Referenced:
Articles Referenced:
Musical Groups referenced:
Run-D.M.C.

LL Cool J

Public Enemy
Writers / Journalists Referenced:
Toni Morrison

Stokely Carmichael

Amiri Baraka

Harry Allen

James Baldwin

Joan Didion

Jimmy Cannon

Red Smith

A.J. Liebling

Gay Talese

David Halberstam

Lorraine Hansberry

Edna Lewis

Ta-Nehisi Coates

David Carr

Neil Drumming

Tina Brown

David Remnick

Khaleel Mohammed

Amy Davidson Sorkin

W.E.B. DuBois

Ralph Wiley