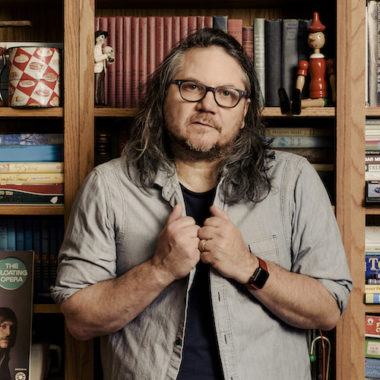 We've made a recording of this event free to all. Please support our institution and these productions by making a tax-deductible contribution.
"Jeff [Tweedy] is our great, wry, American consolation poet. I don't mean this abstractly: to see him play is to find yourself in a crowd of people being actively consoled—being moved, reassured, validated, made to feel like part of a dynamic aural friendship." – George Saunders.
Jeff Tweedy is the founding member and frontman of the American rock band Wilco, the co-founder of the alt-country band Uncle Tupelo, and a solo songwriter, musician, and performer. Since starting Wilco in 1994, Tweedy has written original songs for ten Wilco albums, sold millions of records worldwide, won two Grammy Awards, and earned rave reviews from critics and fans alike.
In addition to Wilco, Tweedy works on numerous solo and side projects. In 1998, he began collaborating with folk singer Billy Bragg on three albums of Woody Guthrie-penned lyrics. In 2014, he released Sukierae, a musical collaboration with his son, Spencer Tweedy. He has also produced a trio of albums for iconic soul and gospel singer Mavis Staples, including If All I Was Was Black in 2017, which he cowrote with Staples.
In 2018, Tweedy released Warm, a solo album that "in and of itself, feels autobiographical, touching on sounds and themes that have always characterized his work without sounding like a retread" (Pitchfork), while simultaneously serving as a companion piece to his new memoir. The book, Let's Go (So We Can Get Back), offers insight into his lifelong intimate relationship with music and the projects created along the way, as well as a candid reflection on his battle with addiction.
Best known for his short stories, George Saunders is the author of the collections Tenth of December, In Persuasion Nation, Pastoralia, and CivilWarLand in Bad Decline, among others. In 2017, he published his first novel, Lincoln in the Bardo, about Abraham Lincoln and the death of his young son, Willie, at the dawn of the Civil War. Saunders teaches at Syracuse University and his work appears regularly in The New Yorker, Harper's, and GQ. He wrote the liner notes for Jeff Tweedy's album Warm.