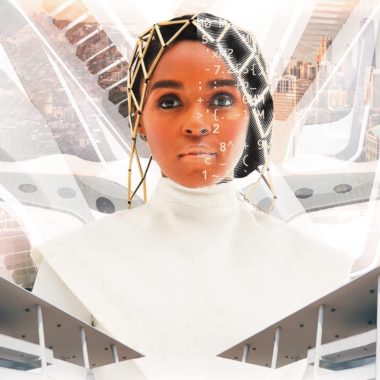 We've made a recording of this event free to all. Please support our institution and these productions by making a tax-deductible contribution.
From groundbreaking musician, actor, fashion icon and futurist JANELLE MONÁE and an outstanding group of collaborators comes THE MEMORY LIBRARIAN, a collection of short fiction, bringing to the written page the rebellious and Afrofuturistic world of Monáe's critically acclaimed album Dirty Computer.
"In this moving, triumphant collection, singer Monáe returns to the dystopian world of her Dirty Computer concept album and short film. Though a special treat for Dirty Computer fans, readers won't need to be familiar with the album to marvel at the big ideas, riveting action, and hopeful message here. This is a knockout." –Publishers Weekly starred review
"Blistering, hopeful, and richly written. . . All readers will finish the book craving more of these extremely queer, bold stories that battle gatekeeping and erasure, digging into both the worst potential of a surveillance state and the gritty glimmer of the rebellion that can defeat it." —Booklist starred review 
Janelle Monáe, Alaya Dawn Johnson, Danny Lore, Eve L. Ewing, Yohanca Delgado, and Sheree Renée Thomas have delivered a sexy, soulful, and dissident collection of tales that expands the bold vision of Dirty Computer—in which Monáe introduced us to a world where people's memories—a key to self-expression and self-understanding—could be controlled or erased by an increasingly powerful few. And whether human, A.I., or something in-between, citizen's lives and sentience were dictated by those of the New Dawn, who'd convinced themselves they had the right to decide fate—that was, until Jane 57821 remembered and broke free. Grown from the soil of that mythos, the stories in THE MEMORY LIBRARIAN explore the lives of those living in the heart and at the edges of a growing surveillance-hungry, totalitarian order—striving to see and hold on to their "dirtiness" without being tracked down and cleaned. Perfect for fans of Octavia Butler, Ted Chiang, Becky Chambers, and Nnedi Okorafor, THE MEMORY LIBRARIAN is a story collection filled with the artistic innovation and brave themes that have made Janelle Monáe a global influence; an anthology that sees our battles about gender identity, political violence, and sexuality as matters of space, time, love, and, of course, the power of memory.
All tickets include a copy of THE MEMORY LIBRARIAN. Orchestra seats ($65), Loge Seats ($59), Balcony seats ($49).
At 62 years, Marcus Books is the oldest Black bookstore in the country. Located in Oakland, it is a literary and cultural landmark, providing the community with a wide selection of books by and about Black people and other People of Color.
Sistah Scifi is the first Black owned bookstore focused on Science Fiction and Fantasy in the United States. 
George M. Johnson is an award-winning writer and activist located in the NYC area. Named one of 100 Most Influential African Americans by The Root, Johnson's writing has appeared in Vice, Teen Vogue, Essence, Ebony, and more. They are the author of two new young adult novels, ALL BOYS AREN'T BLUE and WE ARE NOT BROKEN.
You and your guests must be fully vaccinated to attend this event. Full vaccination is defined as completion of the two-dose regimen of Pfizer or Moderna vaccines or one dose of Johnson & Johnson vaccine administered two weeks or more in advance of the event, as well as a vaccine booster administered at least one week prior to the event. Masks are also required. Policy subject to change.