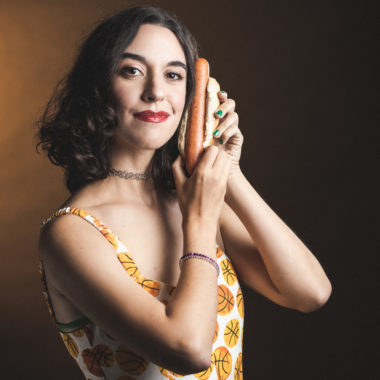 We've made a recording of this event free to all. Please support our institution and these productions by making a tax-deductible contribution.
"Loftus is a singular voice in podcasting: messy yet precise, confident yet conflicted … a model for what a truly independent voice in the medium can sound like." —Vulture
Drawing comparisons to legends like Andy Kaufman and Maria Bamford, Jamie Loftus' comedy is "strange but impossible to look away from" (Forbes). Equal parts absurd and intellectual, as in Irrational Fears, a Comedy Central web series born from an exercise with her therapist, Loftus' output includes the podcasts Ghost Church, My Year in Mensa, Aaack Cast, and The Bechdel Cast. Part investigation, part travelog, her book Raw Dog: The Naked Truth About Hot Dogs, invites you to "grab a dog, lay out your picnic blanket, and dig into the delicious and inevitable product of centuries of violence, poverty, and ambition, now rolling around at your local 7-Eleven."
Sarah Marshall is a writer, podcaster, and media critic focused on setting straight our collective memory—or at least getting to the bottom of why we believe and in turn define ourselves by popular narrative and myth. She is the co-host of the modern history podcast, You're Wrong About and her writing has appeared in the Believer, Buzzfeed and the true crime collection, Unspeakable Acts.
City Arts & Lectures' Covid protocol follows San Francisco Department of Public Health guidelines and/or requirements of the featured guests. At this time, masks are encouraged but not required. Policy subject to change.
Photo by Andrew Max Levy