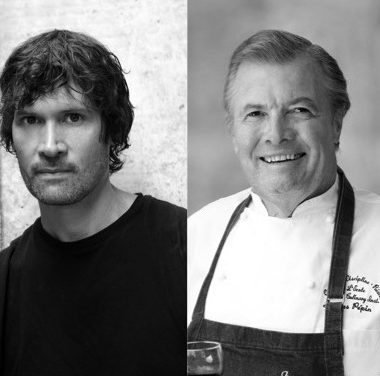 One of America's best-known chefs, Jacques Pépin has published over twenty-five cookbooks, including La Technique, Fast Food My Way, and the best-selling memoir, The Apprentice: My Life in the Kitchen.  To many, the charming chef is a familiar presence at home via his numerous television appearances as host of ten acclaimed public television cooking series.  His newest program, Essential Pépin, will air in the fall of 2011.  Born near Lyon, France, Pépin was just thirteen when he began his formal apprenticeship at the distinguished Grand Hotel de L'Europe in his hometown.  After working in Paris restaurants, then as a personal chef to three French heads of state, including Charles de Gaulle, Pépin moved to the U.S in 1959.  His career distinctions include France's highest civilian honor, the French Legion of Honor, and a Lifetime Achievement Award from the James Beard Foundation.
 
Daniel Patterson is a self-taught chef who opened his first restaurant, Babette's, in Sonoma, California, in 1994 at the age of 25. He is currently the chef/owner of Coi in San Francisco, which holds two Michelin stars and four stars from the San Francisco Chronicle.  Patterson is co-author of Aroma: the Magic of Essential Oils in Food and Fragrance and has written for the New York Times Magazine, Food & Wine, London Financial Times, and other publications. He is currently working on a culinary memoir and a cookbook.
Barbara Fairchild joined Bon Appétit magazine in 1978 as an editorial assistant, and after rising through the ranks, was promoted to editor-in-chief in 2000, where she remained until last year.  A prominent leader in the epicurean world, Ms. Fairchild was inducted into the James Beard Foundation's "Who's Who in American Food and Beverage" in 2000.