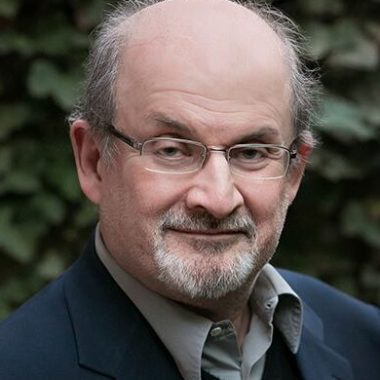 We've made a recording of this event free to all. Please support our institution and these productions by making a tax-deductible contribution.
This week, we're going into the City Arts & Lectures archives for highlights from the many times Salman Rushdie has come to San Francisco. 
Rushdie is a lion of the literary world, but we're airing these past conversations for another reason, too: on August 12th, 2022, Rushdie was attacked minutes before he was to appear onstage in New York. While still under investigation, the violent assault is believed to be motivated by the backlash against his writing — the first and most known example of which was inspired by his 1988 novel, The Satanic Verses. The book's depictions of the Prophet Muhammed offended some readers, and in 1989, Iran's Ayatollah Ruhollah Khomeini issued an edict (known as a fatwa) ordering Mr. Rushdie's death.
Despite the ongoing threat of assassination, Rushdie has continued to write and make public appearances. In this program, we'll hear excerpts from his conversation with writer Michael Chabon in 2017, as well as with professor and radio host Michael Krasny in 2008, 2010, and 2015.