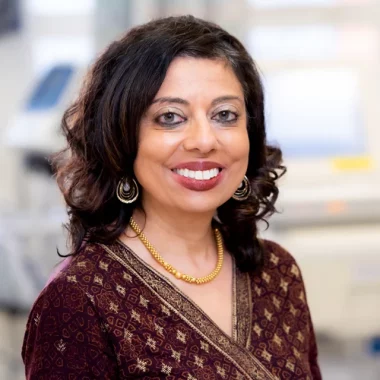 We've made a recording of this event free to all. Please support our institution and these productions by making a tax-deductible contribution.
Dr. Monica Gandhi is one of the most distinguished epidemiologists practicing today. Throughout the COVID-19 Crisis, Gandhi was a leading voice on every aspect of the disease, from its transmission to its treatments, serving as a guide to countless individuals, including those within the medical community. This week on KQED, she'll speak to Indre Viskontas about her book, Endemic: A Post-Pandemic Playbook. It's about the lessons of the pandemic, how society can move forward, and how we can be better prepared in the future.
---
Dr. Monica Gandhi is a Professor of Medicine and Associate Division Chief of the Division of HIV, Infectious Diseases, and Global Medicine at UCSF/ San Francisco General Hospital, and one of the most distinguished infectious disease experts practicing today.
Indre Viskontas is a cognitive neuroscientist with the University of San Francisco and a faculty member at the San Francisco Conservatory of Music. She has published groundbreaking work on the neural basis of memory and creativity, and co-hosts the popular science podcast 
Inquiring Minds. 
Her past City Arts & Lectures interviews include Atul Gawande, Richard Powers, and Temple Grandin.