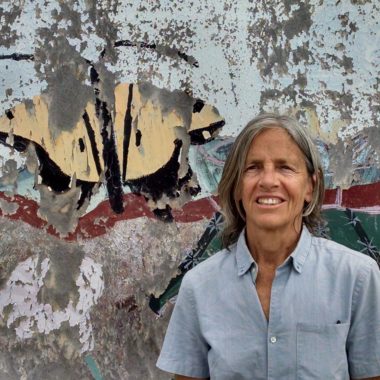 We've made a recording of this event free to all. Please support our institution and these productions by making a tax-deductible contribution.
Eileen Myles is the author of more than twenty books of essays, fiction, and poetry, including Chelsea Girls, Cool For You, and I Must Be Living Twice. A counter-culture icon and activist, Myles ran for president in 1992 as a "openly female & queer" candidate, promising to refuse to live in the White House while there were still homeless people living in America, to decrease defense spending by 75%, and to offer free healthcare. Myles has described the campaign as part protest, part performance art. This fall, Myles returns to poetry with Evolution. "Poetry always, always, always is a key piece of democracy," they told The New York Times Magazine in 2016. "It's like the un-Trump: The poet is the charismatic loser. You're the fool in Shakespeare; you're the loose cannon. As things get worse, poetry gets better, because it becomes more necessary."
Stephen Michael Best is an associate professor of English at University of California, Berkeley. He is the author of The Fugitive's Properties: Law and the Poetics of Possession, and his work has been supported by the Mellon Foundation, the Hellman Foundation, the University of California Humanities Research Institute, and the Ford Foundation.
Photo credit: Peggy O'Brien
---
Books Referenced:
Poems Referenced:
Essays Referenced:
Writers/Poets/Musicians/Filmmakers/Artists Referenced: 
Robert Glück

Maggie Nelson

Ben Lerner

John Wieners

Alan Ginsberg

John Ashbery

Alice Notley

Robert Pinsky

Patti Smith

Richard Hell

Michelle Tea

Jack Kerouac

Camille Roy

Kevin Killian

Dodie Bellamy

Lawrence Braithwaite

Sam D'Allesandro

Kathy Acker

Chris Kraus

George Bataille

Joan Didion

Tom Wolfe

Hunter Thompson

William Burroughs

Sheila Heti

Holly Hughes

Tim Dlugos

Justin Vivian Bond

Layli Longsoldier

Fred Moten

Hart Crane

Ernest Hemingway

Jim Jarmusch

Scott and Beth B

James Schuyler

Rene Ricard

Renee Gladman
Television/Film Referenced:
Transparent (Created by Jill Soloway, 2014-2019)

Rope (Dir. Alfred Hitchcock, 1948)

Pull My Daisy (Dir. Robert Frank & Alfred Leslie, 1959)

400 Blows (Dir. François Truffaut, 1959)