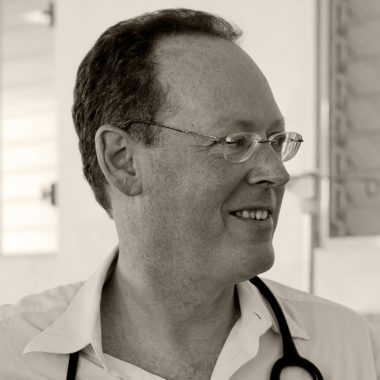 Firsthand reports from doctors on the front lines of Ebola.
Mounting a global response with Bay Area partners.
It would be scandalous to let this crisis escalate further when we have the knowledge, tools, and resources to stop it. – Drs. Paul Farmer and Jim Yong Kim
Partners In Health, Last Mile Health of Liberia, and Wellbody Alliance of Sierra Leone have launched an ambitious campaign to scale up Ebola response and rebuild primary health systems serving over 1 million people. They are already working to train health workers, identify sick patients, and deliver quality care. Partners from UCSF, Berkeley, and Stanford are coming together to support the global response, which requires staff, tools, and systems to contain the outbreak. Amid this crisis lies the opportunity to strengthen local health systems to not only address Ebola, but to reduce the burden of other preventable and treatable diseases – including HIV, malaria, and tuberculosis.
Dr. Paul Farmer, physician and anthropologist, has dedicated his life to improving health care for the world's poorest people. He is a founding director of Partners In Health, an international non-profit organization that since 1987 has provided direct health care services and undertaken research and advocacy activities on behalf of those who are sick and living in poverty. He is the Kolokotrones University Professor at Harvard Medical School, where he Chairs the Department of Global Health and Social Medicine. He is the Chief of the Division of Global Health Equity at Brigham and Women's Hospital. Dr. Farmer has written extensively on health, human rights, and the consequences of social inequality in books like Haiti After the Earthquake and Infections and Inequalities: The Modern Plagues. Tracy Kidder's book Mountains Beyond Mountains: The Quest of Dr. Paul Farmer, A Man Who Would Cure the World, chronicles the development of Dr. Farmer's work in Haiti and beyond. www.pih.org
Dr. Dan Kelly is an Infectious Disease Fellow in UCSF's Department of Medicine, and a co-founder of Wellbody Alliance, a non-profit providing health care as a human right to the poor in Sierra Leone. After completing his internal medicine residence at Baylor College of Medicine, he was awarded a 2011 Fullbright fellowship to study HIV/AIDS in Sierra Leone. His passion for helping underserved populations grew out of his work as a Spanish translator for Princeton's free clinic and administrative lead for Albert Einstein's student-run free clinic. Kelly left for Sierra Leone with the support of Albert Einstein's Global Health Fellowship after his third year of medical school. The incredible need in Sierra Leone compelled him to partner with Dr. Mohammed Barrie to serve the health needs of its amputated civilians, and later start Wellbody Alliance's clinic in Kono. www.wellbodyalliance.org/
Dr. Raj Panjabi is an Associate Physician in the Division of Global Health Equity at Brigham and Women's Hospital, Instructor in Medicine at Harvard Medical School, and Co-Founder and CEO of Last Mile Health. At age 9, Panjabi narrowly escaped a civil war in his home country of Liberia. He returned to serve the people he had left behind, co-founding Last Mile Health (LMH), which works with the Liberian government to save lives in the world's most remote villages by giving village health workers the training, equipment, and support they need to perform as professionals. LMH's work has been recognized by President Bill Clinton, Liberian President Ellen Johnson Sirleaf, and Big Bang Philanthropy. Named a "Social Disruptor" by the Forbes 400 Summit on Philanthropy, Panjabi is a fellow of the Draper Richards Kaplan Foundation, Mulago Foundation, and Echoing Green as well as an Advisor in Global Health to the Clinton Global Initiative. He is a recipient of the Global Citizen Movement Award, the Segal Family Foundation Rising Star Award and the Johns Hopkins University Outstanding Recent Alumni Award. www.lastmilehealth.org
Ambassador Eric Goosby is a Professor of Medicine in the Global Health Sciences program at University of California, San Francisco. In addition to seeing patients and teaching students, Ambassador Goosby is establishing an Institute for Global Health Delivery and Diplomacy. In 2009, Goosby was appointed by President Barack Obama to serve as the Ambassador-at-Large and United States Global AIDS Coordinator, where he led all U.S. Government international HIV/AIDS efforts from 2009-2013. In this role, Ambassador Goosby oversaw implementation of the U.S. President's Emergency Plan for AIDS Relief (PEPFAR), the largest public health program responding to a single disease in history, and served as the U.S. Board Member to the Global Fund to Fight AIDS, Tuberculosis and Malaria.