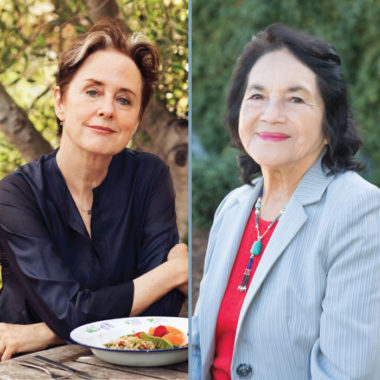 We've made a recording of this event free to all. Please support our institution and these productions by making a tax-deductible contribution.
Alice Waters is a chef, author, food activist, and the founder and owner of Chez Panisse Restaurant in Berkeley, California. She has promoted local sustainable agriculture for over four decades, and in 1995 she founded the Edible Schoolyard Project, which promotes free school lunches and sustainable food curriculum in public schools.  She is a leader in the slow food movement, and was awarded the National Humanities Medal by President Obama in 2015. Waters is the author of many books, including The Art of Simple Food I & II and The Edible Schoolyard: A Universal Idea, and most recently her memoir, Coming to My Senses.  
Co-founder of the United Farm Workers Association, Dolores Huerta is one of the most influential labor activists of the 20th century and a leader of the Chicano civil rights movement. She is the founder of the Agricultural Workers Association, and, along with César Chávez, co-founded the National Farm Workers Association, the predecessor of the United Farm Workers' Union, which Huerta served as vice president. Throughout the 1970s and '80s, Huerta worked as a lobbyist to improve workers' legislative representation. During the 1990s and 2000s, she worked to elect more Latinos and women to political office and has championed women's issues. The recipient of many honors, Huerta has received the Eleanor Roosevelt Human Rights Award and the Presidential Medal of Freedom. She is the founder and President of the Dolores Huerta Foundation, for which she travels across the country engaging in campaigns and influencing legislation that supports equality and defends civil rights.
Davia Nelson is a radio producer, radio host, and one half of The Kitchen Sister. Alongside Nikki Silva, The Kitchen Sisters have produced the award-winning NPR series Hidden Kitchens, Lost & Found Sound, The Sonic Memorial Project, The Hidden World of Girls, and most recently, The Keepers, a series of stories about activists, rogue librarians, curators, collectors and historians.
This event is a benefit for the Dolores Huerta Foundation & The Edible Schoolyard Project.