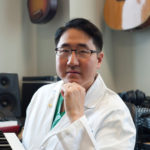 How does the brain create music? Charles Limb, otolaryngologist, neuroscientist, and hearing specialist, along with Indre Viskontas, a cognitive neuroscientist and operatic soprano, will explore the neural basis of music and consider how we can cultivate individual creativity. Limb's expertise covers the full scope of otology and neurotology, with a focus on the treatment of hearing loss and auditory disorders. He specializes in surgery of the temporal bone, concentrating on acoustic neuroma surgery, cochlear implant surgery, implantable hearing aids, stapes surgery, cholesteatoma surgery, and cancers of the ear. Viskontas is a cognitive neuroscientist with UCSF and member of the faculty at the San Francisco Conservatory of Music. She studies how memories, creativity and other cognitive processes are supported by neural networks, implementing direct recordings from neurons in the human brain and high-resolution functional MRIs. A classically trained soprano, she performs with regional opera companies and chamber music groups and is the co-founder of Vocallective.
Drs. Limb and Viskontas will be joining onstage by the SFJAZZ High School All-stars.
The SFJAZZ High School All-Stars is a by-audition jazz program featuring talented students from Sacramento to Monterey.  Last year's elite octet (designed to shadow the SFJAZZ Collective in instrumentation and in repertoire) presented a lecture-demonstration with Dr. Limb at the SFJAZZ Center; this evening's quintet is pleased to join Drs Limb and Viskontas and City Arts & Lectures in exploring the creative nature of jazz improvisation.