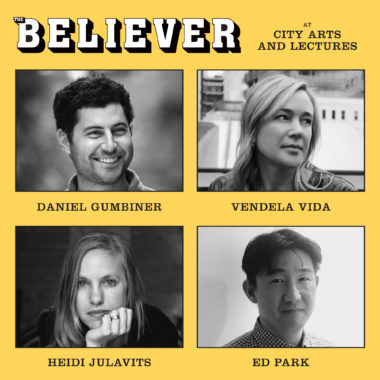 Come out for a night with hometown literary heroes from The Believer Magazine! After half a decade away, the beloved magazine is back. Editor Daniel Gumbiner will host a conversation with founding editors Heidi Julavits, Ed Park, and Vendela Vida. Those who attend will be among the first to receive a copy of the much-anticipated resurrection issue.
Daniel Gumbiner's first book, The Boatbuilder, was nominated for the National Book Award and a finalist for the California Book Awards. A 2022-23 Hermitage Fellow, he lives in Oakland and works as the editor of The Believer. 
Heidi Julavitsis the author of The Folded Clock: A Diary, as well as four critically acclaimed novels. She is the co-editor of the New York Times bestseller Women in Clothes. A founding editor of The Believer, her memoir, Directions to Myself, is forthcoming in 2023.
Ed Park is a founding editor of The Believer, for which he has written about Charles Portis, hobo graffiti, and Goodnight Moon. He is the author of the novel Personal Days and the forthcoming Same Bed Different Dreams. 
Vendela Vida is the award-winning author of six books, including Let the Northern Lights Erase Your Name and The Diver's Clothes Lie Empty. Her recent novel, We Run the Tides, was a national bestseller. She is a founding editor of The Believer and founding board member of 826 Valencia.
About The Believer
A twelve-time finalist for National Magazine Awards, The Believer was founded in 2003 by Heidi Julavits, Ed Park, and Vendela Vida at McSweeney's. Long known as a venue for rigorous yet accessible cultural coverage, the magazine features lengthy interviews, journalism, poems, regular columns on books and art, and reviews of places that don't urgently need reviews, like San Francisco's 24th Street McDonald's. After half a decade away, The Believer returned home to McSweeney's in 2022.
About McSweeney's 
McSweeney's, founded in 1998 by author Dave Eggers, is a San Francisco-based independent nonprofit publisher with a worldwide reach. Our literary journal was honored in 2019 with the National Magazine Award for Fiction, whose judges cited our "assured spirit and commitment to surprise." Few words could better capture the ethos of what we do and why we're here. We publish McSweeney's Quarterly, a literary journal featuring original fiction and art; The Believer, which publishes journalism, essays, cultural criticism and more; kids' art and storytelling magazine Illustoria; a daily humor website, McSweeney's Internet Tendency, and an intrepid list of fiction and nonfiction books.