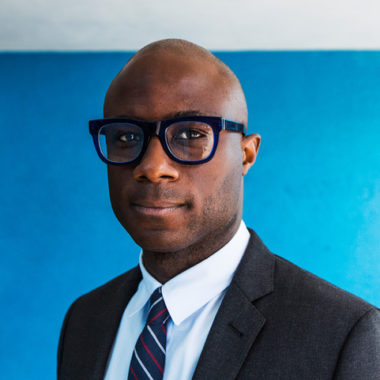 We've made a recording of this event free to all. Please support our institution and these productions by making a tax-deductible contribution.
Director, producer, and writer Barry Jenkins has received sweeping critical acclaim for his films, which notably depict black and queer experience through a nuanced and expressive lens. His 2016 film Moonlight received the Academy Award for Best Picture and Best Adapted Screenplay, as well as the Golden Globe Award for Best Picture — Drama. Jenkins is currently in production on The Underground Railroad, a series based on Colson Whitehead's novel of the same name, and his forthcoming film, an adaptation of James Baldwin's novel If Beale Street Could Talk, will be released in late November.
Stephen Michael Best is an associate professor of English at University of California, Berkeley. He is the author of The Fugitive's Properties: Law and the Poetics of Possession, and his work has been supported by the Mellon Foundation, the Hellman Foundation, the University of California Humanities Research Institute, and the Ford Foundation.
The event benefits 826 Valencia College Scholarships
---
Films Referenced: 
Medicine for Melancholy (2008 Dir. Barry Jenkins)

Moonlight (2016 Dir. Barry Jenkins)

If Beale Street Could Talk (2018 Dir. Barry Jenkins)

I Am Not Your Negro (2016 Dir. Raoul Peck)

Ginger & Rosa (2012 Dir. Sally Potter)

A Young Couple

(2009 Dir. Barry Jenkins)

Beau Travail (1999 Dir. Claire Denis)

Silent Light (2009 Dir. Carlos Reygadas)

In the Mood for Love (2000 Dir. Wong kar-Wai)

My Josephine

(2003 Dir. Barry Jenkins)

Minding the Gap (2018 Dir. Bing Liu)

Medium Cool (1969 Dir. Haskell Wexler)

George Washington (2000 Dir. David Gordon Green)

Little Brown Boy

(2003 Dir. Barry Jenkins)
Books Referenced:
Plays Referenced:
"In Moonlight, Black Boys Look Blue" by Tarell Alvin McCraney
Articles/Essays/Speeches Referenced:
Artworks Referenced:
Songs Referenced:
Writers/Filmmakers Referenced:
Spike Lee

Robert Altman

Richard Portman

Katrina Dodson

Michael Kimmelman

Fred Weisman

Douglas Sirk

Steven Spielberg

Sergei Eisenstein