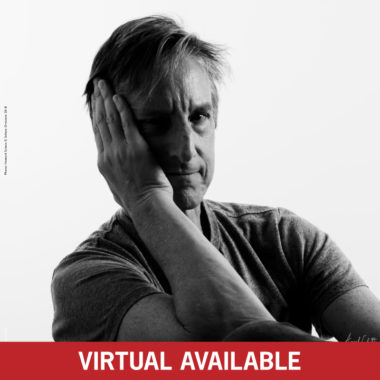 We've made a recording of this event free to all. Please support our institution and these productions by making a tax-deductible contribution.
We are pleased to offer virtual tickets for this event in addition to the live theater event. Virtual tickets available here
Andy Borowitz is an award-winning comedian and New York Times bestselling author. He grew up in Cleveland, Ohio, and graduated from Harvard College, where he became President of the Harvard Lampoon. In 1998, he began contributing humor to The New Yorker's "Shouts and Murmurs" and "Talk of the Town" departments, and in 2001, he created "The Borowitz Report," a satirical news column, which has millions of readers around the world. In 2012, The New Yorker began publishing "The Borowitz Report." As a storyteller, he hosted "Stories at the Moth" from 1999 to 2009. As a comedian, he has played to sold-out venues around the world, including during his national tour, "Make American Not Embarrassing Again," from 2018 to 2020. His new book, Profiles in Ignorance: How America's Politicans Got Dumb and Dumber, received a starred review from Kirkus, which called it "devastatingly funny." He is the first-ever winner of the National Press Club's humor award. He lives with his family in New Hampshire.
Vivien Straus grew up on her family's dairy in Marshall, California before running away to Hollywood to become an actress. This fall, on the farm, she'll perform her new one-woman tragicomedy After I'm Dead, You'll Have to Feed Everyone.
Marisa Lagos is a correspondent for KQED's California Political and Government Desk and co-hosts a weekly show and podcast, Political Breakdown. Previously, she worked at the San Francisco Chronicle, the San Francisco Examiner, and Los Angeles Times. She has won awards for her work investigating the 2017 wildfires and her ongoing coverage of criminal justice issues in California.
Masks are required inside the venue. Policy subject to change based on San Francisco Department of Public Health guidelines and/or requirements of the featured guests. 
Photo by Howard Schatz