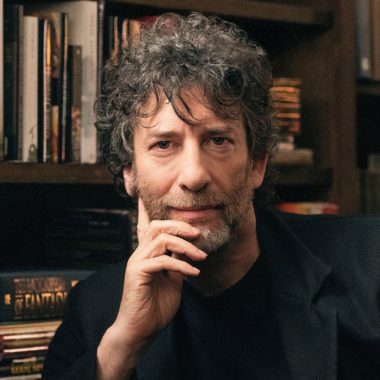 We've made a recording of this event free to all. Please support our institution and these productions by making a tax-deductible contribution.
"Gaiman is, simply put, a treasure-house of story, and we are lucky to have him." — Stephen King
One of the most celebrated writers of our time, Neil Gaiman's popular and critically acclaimed works bend genres while reaching audiences of all ages. He is credited with being one of the creators of modern comics; his groundbreaking Sandman series was the first comic ever to receive a literary award. He is the author of the novels Neverwhere, Stardust, American Gods, and Anansi Boys, the children's book Coraline among others, and the short story collection Smoke and Mirrors: Short Fictions and Illusions. Gaiman has also written and directed for television and film, and maintains a large online following on his blog and social media. The Neil Gaiman Reader: Selected Fiction, and a new children's book, Pirate Stew, were published in 2020.
Photo courtesy of Masterclass
You and your guests must be fully vaccinated to attend this event. Full vaccination is defined as completion of the two-dose regimen of Pfizer or Moderna vaccines or one dose of Johnson & Johnson vaccine administered two weeks or more in advance of the event, as well as a vaccine booster administered at least one week prior to the event. Masks are also required. Policy subject to change.