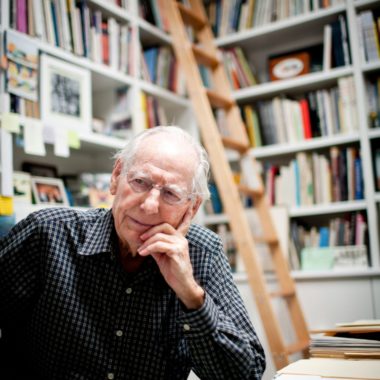 We've made a recording of this event free to all. Please support our institution and these productions by making a tax-deductible contribution.
California-based painter Wayne Thiebaud was best known for his playful depictions of commonplace commodities and confections. Blending his interests in cartooning, graphic design, and pop art, Thiebaud developed his own unique use of color and shadow and became prominent in the Bay Area Figurative Movement. And while he did not consider himself a pop artist, Thiebaud was often associated with the movement. 
It's his cherry topped cakes, lush with frosting, and brightly hued slices of pie that first come to mind for many of his fans. The pleasures of diners and dessert carts, rendered in thick paint, evoke a bygone era. But what could be misinterpreted as saccharine nostalgia is often cut through by a sort of sadness — the blue shadow around a plate or the downward gaze of a pair of swimmers.  
Thiebaud's landscapes, showcasing  the steep streets of San Francisco, and the golden hills of California, feature an intensity of light and color, as well as his distinctive brushwork and lush paint.
Wayne Thiebaud died on December 25, 2021 at the age of 101. The artist worked  until the end of his life — he was one-hundred in August of 2020 when The New Yorker magazine featured one of his iconic ice cream cones as its cover image.  
In honor of the vibrant life and work of the California legend, we are re-broadcasting his conversation with Wendy Lesser, originally recorded at the Herbst Theater on April 20th, 2005.
Photo Credit: Max Whittaker
---
Works Referenced 
Magazines Referenced 
Artists & Writers Referenced 
Allan Stone (gallerist)

Giorgio Morandi 

Paul Cézanne

Käthe Kollwitz

Vincent van Gogh 

Willem de Kooning 

Franz Kline 

Elaine de Kooning 

Leonardo da Vinci 

Jose Luis Borges

Julio Cortázar 

Charles Campbell (gallerist) 

Adolphe Monticelli

Camille Pissarro 

Peter Paul Rubens 

Dylan Thomas 

Richard Diebenkorn

Elmer Bischoff 

Manuel Neri 

Theophilus Brown 

Georges Braques 

Henri Matisse

Pierre Bonnard

El Greco 

Honoré Daumier 

Andy Warhol 

Titian 

John Singer Sargent

Giorgio di Chirico