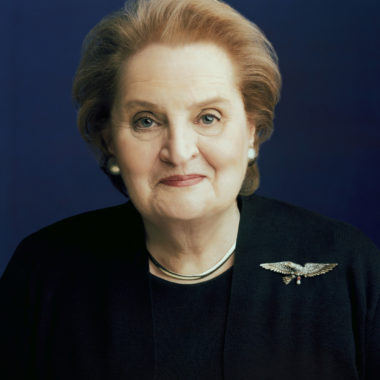 We've made a recording of this event free to all. Please support our institution and these productions by making a tax-deductible contribution.
This week, we're celebrating the life of the late Madeleine Albright, who passed away on March 23, 2022 at the age of 84.
Albright was born in Prague, Czechoslovakia in 1937. She and her family were refugees, first from the Nazis and then from the Communists, eventually emigrating to the US in 1948. Albright went on to earn 8 academic degrees, including both a master's and doctorate from Columbia University. During Bill Clinton's first term as President, Albright served as the US Permanent Representative to the United Nations and was a member of the National Security Council.  Her tenacity and flair for foreign policy led Clinton to appoint her as the first female Secretary of State. During her tenure, Albright concentrated on a bipartisan approach to foreign policy, which made her remarkably popular both at home and abroad.
In her honor, we will be re-broadcasting an old conversation with Roy Eisenhardt, originally recorded at the Herbst Theater on October 13, 2008.