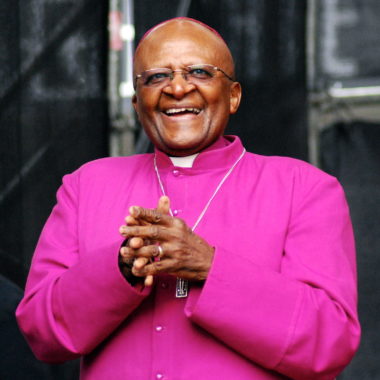 We've made a recording of this event free to all. Please support our institution and these productions by making a tax-deductible contribution.
We're celebrating the life of Desmond Tutu with a re-broadcast of his 2010 appearance for City Arts & Lectures. The Nobel Prize winner dedicated his life to fighting for basic civil and human rights for all. Born a teacher's son in South Africa, Tutu followed his father's path and taught for several years before studying theology.  From there, he became the first Black general secretary of the South African Council of Churches, and then the Archbishop of Cape Town.  In 1997, Nelson Mandela to chair the Truth and Reconciliation Commission after the abolition of apartheid.
Archbishop Tutu presided over the ordination of his daughter Mpho Tutu into the Episcopal priesthood in 2004.  The younger Tutu is also the founder and director of the Tutu Institute for Prayer and Pilgrimage located in Alexandria, Virginia.  Together, father and daughter wrote the book "Made for Goodness, And Why This Makes All the Difference".
On March 17, 2010, Desmond and Mpho Tutu visited Davies Symphony Hall in San Francisco to be interviewed on stage by Roy Eisenhardt.