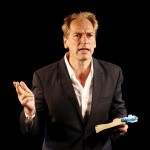 The late Harold Pinter's writing career spanned more than fifty years. One of the most influential and controversial modern dramatists, Pinter wrote more than twenty-nine plays and some twenty-one screenplays. His plays include Betrayal, No Man's Land, Old Times, The Caretaker, The Birthday Party, A Kind of Alaska, and the Tony Award-winning The Homecoming. Pinter was also a noted director, actor, poet, and political activist.
Julian Sands has worked in radio, television, theatre, and in over a hundred films —including The Killing Fields, Room With a View, Boxing Helena, Leaving Las Vegas, Arachnophobia, Oceans 13, and Girl With a Dragon Tattoo. Sands and John Malkovich first presented A Celebration of Harold Pinter at The Edinburgh Festival in 2011. He has since performed the original piece in London, Paris, Poznan, San Francisco, New York, Los Angeles, and Mexico City.
An Academy Award-nominated actor, John Malkovich directed Broadway revivals of The Caretaker and Arms and the Man, and won the Drama Desk, Outer Critics Circle and OBIE awards for his direction of Balm in Gilead. He is a founding member of the Steppenwolf Theatre in Chicago. He has also appeared in the films The Killing Fields, Dangerous Liaisons, Of Mice and Men, Empire of the Sun, and Red. His New York stage credits include Burn This, Death of a Salesman, and True West.