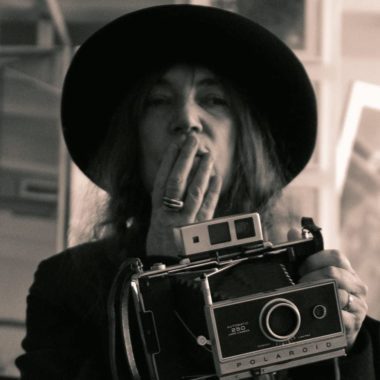 We've made a recording of this event free to all. Please support our institution and these productions by making a tax-deductible contribution.
We are pleased to offer VIRTUAL TICKETS tickets to the sold out live theater event. All virtual tickets include a copy of Patti Smith's new book, A Book of Days. Books will arrive via mail the week of December 12.
Patti Smith is a writer, performer, and visual artist who gained recognition in the 1970s for her revolutionary merging of poetry and rock. She has released numerous albums and books including her seminal record Horses, hailed as one of the top 100 albums of all time; Just Kids, a beautifully crafted love letter to her lifelong friend, the late photographer Robert Mapplethorpe; and M Train, a collection of essays about memory, loss, and the simple pleasures of everyday life. Her new book, A Book of Days, is a deeply moving testament to the artist's multiple and well-honed talents. The brilliantly idiosyncratic visual book features a year's worth of images and reflections that chart Smith's singular aesthetic—inspired by her wildly popular Instagram.
An "immensely gifted writer and magical prose stylist" (Michiko Kakutani, The New York Times), Michael Chabon is celebrated for his remarkable ability to transport his readers.  His many novels include The Mysteries of Pittsburgh, The Yiddish Policemen's Union, Wonder Boys, Telegraph Avenue, and the Pulitzer Prize-winning, The Amazing Adventures of Kavalier & Clay.
Photo by Patti Smith