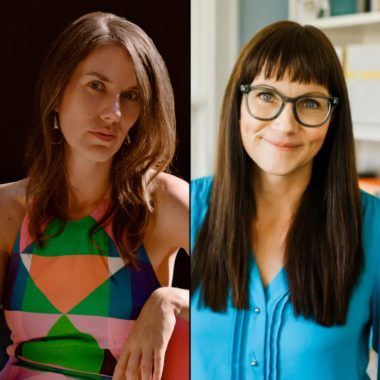 "If I were offered one guide as a writer, as a mother, as a teacher, as a human being constantly reinventing herself out of necessity, I'd want that guide to be Leslie Jamison." Maggie Smith –The New York Times
Leslie Jamison is the author of the New York Times bestsellers The Recovering and The Empathy Exams; the collection of essays Make It Scream, Make It Burn, a finalist for the PEN/Diamonstein-Spielvogel Award; and the novel The Gin Closet, a finalist for the Los Angeles Times Book Prize. She writes for numerous publications including The New Yorker, The Atlantic, the New York Times, Harper's, and the New York Review of Books. Her forthcoming memoir is titled Splinters: Another Kind of Love Story.
Maggie Smith is a poet, writer, editor, and teacher. She's published several books of poetry and prose, including Good Bones, Keep Moving and Goldenrod. Her memoir, You Could Make This Place Beautiful, is a New York Times bestseller.
Leslie Jamison photo by Beowulf Sheehan. Maggie Smith photo by Devon Albeit Photography.